As seen on:
FRESCOBOL
For kids. For families. For sport enthusiasts. For everyone!
All-natural beach bats with which you will have fun for the rest of your life. Made from 100% wood.
STAKK
The crazy but fun toss game for a perfect summer day.
Whether sand, garden, park or beach, an exciting skill game where 100% happiness & excitement are guaranteed.
HANDSURFING
A surf trend from Australia for beginners and professionals
Watch out, surfers! You can now bodysurf without a skimboard or bodyboard. Our two46 handsurfboard is not only revolutionizing the sport of surfing, it's also providing tons of fun in the water.
250+ five star reviews
250+ five star reviews
We were like kids at Christmas on the Sunday morning these arrived! Absolutely stunning bats, lovely finish, such quality craftsmanship.
250+ five star reviews
Superb bats! Excellent design and quality manufacturing. Lovely woods look really stylish. Super-comfortable grip. All in all, a delight to use.
250+ five star reviews
Product is of the HIGHEST quality. There is nothing to dislike about the two46 Beach Bat Set; what you get is supreme quality, even the grip around the handle is top notch and really comfortable to hold.
OUR MISSION
"We want to build sustainable sporting goods that are better than the status quo!"
The story of two46 began with the wish to create a sustainable and improved version of a beach racket, combining functionality and durability. Finally, this developed into a passion for creating innovative sports products.
Ein Erfahrungsbericht über das neue Aktivitätsspiel für Jung und Alt
Als ich vor einigen Wochen auf Tiktok unterwegs war, bin ich auf ein Video gestoßen, das mein Interesse geweckt hat. Es ging um ein neues Indoor-Ballspiel namens Pitjau, das von vielen Nutzern auf Tiktok begeistert gespielt wurde. Da ich immer auf der Suche nach neuen Freizeitaktivitäten bin, habe ich beschlossen, Pitjau auszuprobieren und meine Erfahrungen mit dem neuen Indoor-Ballspiel aus Dänemark zu teilen.
 Was ist Pitjau?
Pitjau ist ideal für alle, die sich drinnen aktiv betätigen möchten. Der Ball ist sehr leicht und macht es so möglich, dass man beim Spielen keine Angst haben muss, etwas kaputt zu machen. Das Spiel benötigt auch nicht viel Platz - etwa 5-8 m² - was bedeutet, dass es in einem Wohnzimmer, Ferienhaus oder im Büro gespielt werden kann.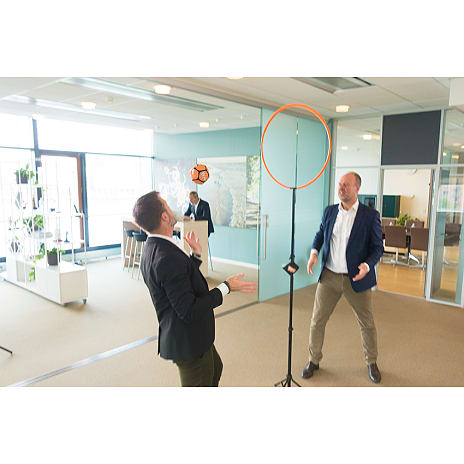 Das Spiel ist einfach zu spielen. Man benötigt lediglich einen Ring in der Größe eines kleinen Hula-Hoop-Reifens, der senkrecht auf einem höhenverstellbaren Ständer steht. Der Ball wird ein paar Mal gepustet, bevor er mit der flachen Hand durch den Ring geschlagen wird. Der Gegner hat dann 3 Schläge/Berührungen, um den Ball wieder durch den Ring zu bekommen.
Ich habe Pitjau mit Freunden im Wohnzimmer gespielt und es hat viel Spaß gemacht. Wir haben uns entschieden, 1 gegen 1 zu spielen, um den Ring herum mit mehreren Teilnehmern. Das Spiel erfordert sowohl Technik als auch Kraft, da der Ball mit der gleichen Kraft wie beim Tennis oder Volleyball geschlagen werden kann, aber der Flug des Balls nach 2-5 Metern stoppt und dann sanft auf den Boden fällt. Mit etwas Übung kann man den Ball auch drehen, um den Gegner zu schwierigen Schlägen zu zwingen. Das gibt dem Spiel eine neue Dimension und andere Zweikämpfe als bei anderen Ballspielen.
Das Spiel kann in verschiedenen Modi gespielt werden, wie zum Beispiel 1 gegen 1, um den Ring herum mit mehreren Teilnehmern oder im Doppel 2 gegen 2. Trotz des kleinen Spielfelds und des leichten Balls kann man bei einem Pitjau-Spiel viel Energie aufwenden.
Ein großer Vorteil von Pitjau ist, dass es für jedes Alter geeignet ist. Da der Ball so leicht ist, können auch Kinder und ältere Menschen problemlos mitspielen. Ein weiterer Vorteil ist, dass es ein Indoor-Spiel ist, das bei jedem Wetter gespielt werden kann. Außerdem lässt sich das Spiel schnell aufbauen und ist leicht zu verstauen und zu transportieren, da es nicht mehr Platz einnimmt als ein Kamerastativ und insgesamt etwa 1 kg wiegt. 
Der einzige Nachteil von Pitjau ist, dass es für manche möglicherweise zu einfach sein könnte. Es gibt nur einen Ring und einen Ball, was bedeutet, dass es keine komplexen Regeln oder taktischen Überlegungen gibt. Das Spiel ist einfach und macht Spaß, aber es könnte für manche nach einer Weile monoton werden.
Insgesamt hat mir Pitjau viel Spaß gemacht. Es ist eine tolle Möglichkeit, drinnen aktiv und lustig zu sein, sei es mit Freunden oder Familie. Das Spiel ist leicht zu erlernen und erfordert nicht viel Platz oder Ausrüstung. Es ist definitiv eine Empfehlung für alle, die nach einer neuen Freizeitaktivität suchen und gerne mit anderen spielen.
Just in time for spring, the latest invention from the two46 think tank is ready to conquer schools, playgrounds and sports facilities, as well as parks, meadows, outdoor swimming pools and beaches far beyond Germany. 
Pretty much every person has a more or less accurate idea of what surfing looks like. What handsurfing is all about, however, is probably still unknown to many. In recent years, the sport trend of using handplanes and handboards in the water has become very popular in surfing hotspots such as Australia, California and Hawaii.